Creative Summer Vacation with Bicycles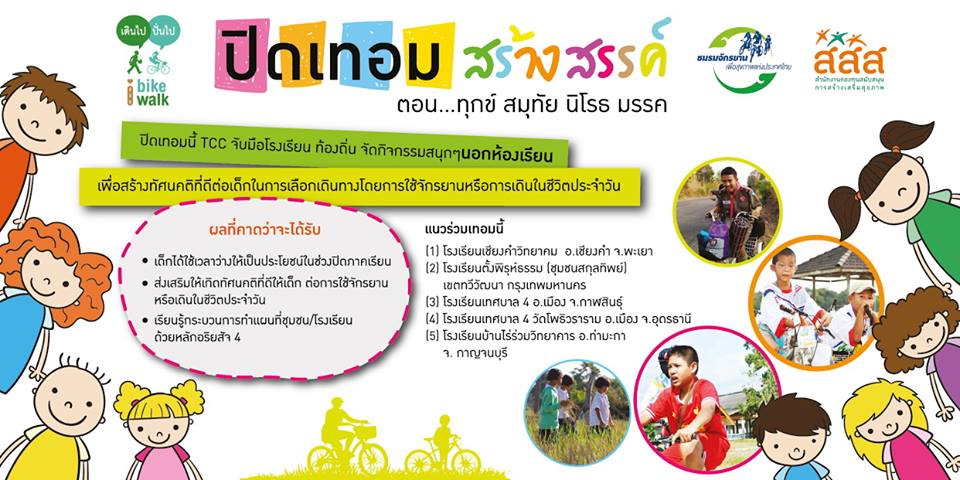 Thailand Cycling Club (TCC) has been working with various target groups to promote walking and cycling in daily life.  One of them is children/youth, especially those in schools, where Walk To School and Bike To School projects were implemented with supports from TCC in some schools in Bangkok and the provinces.  In 2015's summer school vacation, we worked with a community and four schools to apply Buddhism's Four Noble Truth to identify, analyse, and come up with solutions to, problems existing in their local areas, using bicycles as the means to go around for surveying.
Objectives of this project titled "Creative Summer Vacation with Bicycles" are to enable youth to usefully spend their free times during their summer vacation, to learn how to apply Buddhism's Four Noble Truth, and to develop their good attitude towards walking and cycling in daily life.
The five target areas were identified based on their local leaders and children/youth's interest in cycling and their readiness to do cycling-related activities. They are:
1.     Sakulthip Community in the Western suburb of Bangkok,
2.     Wat Tai Pho Kham Municipality 4 School in Kalasin Province, Northeastern Region,
3.     Baan Rai Ruam Witthayakarn School in Kanchanaburi Provine, Central Region,
4.     Chiang Kham Witthayakhom School in Payao Province, Northern Region, and
5.     Wat Phothi Wararam Municipality 4 School in Udorn Thani Province, Northeastern Region.
In this project, children/youth learned about environment problems around the world and identified what problems existed in their local area. They then discussed how to solve these problems by themselves, their families and neighbours, their community and local authorities, including by turning to walk and cycle more in their daily life.  They then learned about benefits of cycling, and how to ride safely and to basically maintain their bicycles in good order.  Obstacles and problems they had encountered in using bicycles were raised and discussed.   The children walked and used bicycle to go around, surveying and studying their local area, and came back to draw a community map, which showed locations, magnitude and nature of these problems, needs of community members and resources.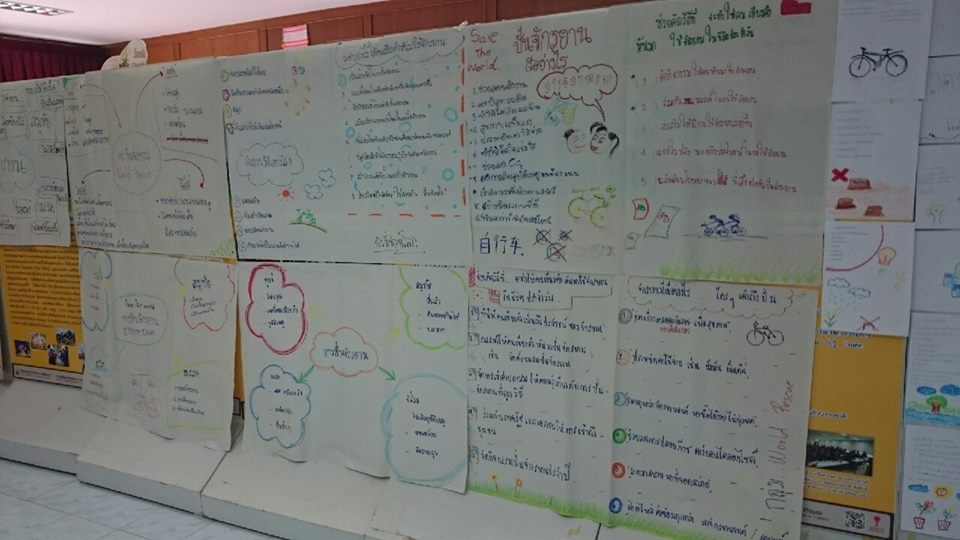 A total of 139 youth/children, 65 in primary school level and 74 in secondary school level, participated in this project together with about 200 teachers, parents and community leaders who also joined the learning process with them. Pre-tests and post-tests indicate that these children/youth had more knowledge and understanding by about 20 per cent in average in areas of, for example, community survey and mapping, systematic thinking, safe use, maintenance and benefits of bicycle, The Buddhism's  Four Noble Truth, teamwork and time management, and practical ways to mitigate the Global Warming and Climate Change.
Summarised in English from a full project report in Thai language by Gawin Chutima, TCC Committee Member
Comments
comments