Making 'Bike for Dad' & 'Bike for Mom' not just one-day event
The Crown Prince led 'Bike for Dad'
'Bike for Dad', a cycling event to honour HM the King's 88th Birthday Anniversary, successfully took place with activities in 67 countries all around the world and a total of 607,909 persons registered to participate.  In Thailand, the event was organised all over the country on December 11, 2015.  In Bangkok, the Crown Prince himself led a 29 km. ride where 99,999 persons registered to take part, including ambassadors from 24 countries and Prof. Emeritus Thongchai Panswad Ph.D., President of Thailand Cycling Club (TCC), who was designated to cycle in Sector A together with dignitaries and other honourable participants.  In the provinces, a total of 498,105 people registered to join.  Actual numbers were more.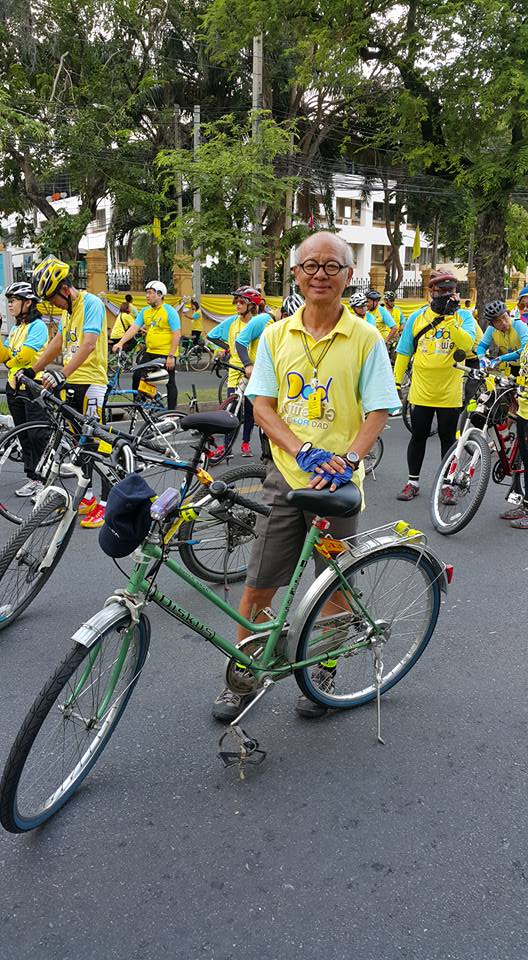 Prof. Thongchai Panswad, TCC President, in Bike for Dad cycling event
'Bike for Dad' took place less than three months after 'Bike for Mom', another cycling event initiated and led by the Crown Prince, to honour his mother HM the Queen on her birthday August 12, 2015.  The event was also participated by hundreds of thousand and set a new Guinness World Record for number of people cycling at the same time for an activity.  These two one-day events not only allowed a large number of Thai people to create a new page in history book by cycling en mass to express their gratitude towards HM the King and HM the Queen, but also raise awareness and interest in cycling in Thailand as never been before.
Working to promote walking and cycling in daily life with officials and government agencies both at national and local level, private sector and civil society organisations all over the country, Thailand Cycling Club has found that many people, including the mass media, share similar sentiment that these two great cycling events should not be allowed to stand alone as one-day event and become just a good memory, but should be considered as a great opportunity to create more impacts, generating more actions to seriously, continuously and widely promote cycling in daily life.
An Editorial Column of Bangkok Post on 11th December 2015 is a good example of this sentiment that the government should take into consideration, and TCC wish to quote it in full as follows:
Get serious about cycling
Today is a big day for cyclists. Hundreds of thousands are expected to hit the road on two wheels as part of the "Bike for Dad" event across the country. The event is to honour His Majesty the King on his 88th birthday. State agencies have rushed to upgrade road infrastructure to ensure a smooth journey for the entire 29-km route in the Big Mango. Potholes, and dangerous sewer and drainage lids – all a nightmare for cyclists – are now gone.
Similar infrastructure improvements have been seen in the rest of the country.
This cycling event, the second of its kind, comes at the right time. The surge in the popularity of cycling is evident despite a lack of standard bike infrastructure to make it safer. The cyclist population is rising sharply, with several cycling clubs having been set up, while bicycle shops and related businesses are thriving. Cycling events are emerging all-year round.
A few months after entering office last year, the Prayut Chan-o-cha government announced a policy to promote cycling. It allocated more than one billion baht to promote bike infrastructure across the country. In a bid to show their commitment to zero-carbon cycling, the prime minister and members of the cabinet appear on their bicycles before media cameras quite often. That deserves applause.
However, while the policy is right, the implementation is not. What is wrong is the interpretation by state officials – that cycling is for health and leisure, not a transport mode for daily life. In line with that interpretation, most, if not all, bike lanes are built in enclosed areas like parks, while what is needed is a network of safe, practical lanes so people can ride to work, and do business, in addition to leisure riding.
Even in Bangkok, where a few bike lanes have been introduced by the city administration for city residents, the infrastructure including that in the Rattanakosin old-town area is under-used. One underlying problem is that the infrastructure is aimed at promoting tourism, not as a mode of environmentally-friendly transport – an alternative to run-down city buses, and private vehicles that hardly move during rush hours. Another big problem is that without law enforcement, most lanes are infringed upon by motorists who simply use the bike lanes as parking areas.
Without public participation, conflicts emerge between local residents, especially restaurant owners and traders and cyclists, such as in Bang Lamphu. The former tend to despise the bike lanes which they believe take away their roadside parking and also trading opportunities. This perception goes against the belief that cycling is good for the local economy.
To solve the problem, we need a wise plan to make cyclists and communities coexist. But as we know, it is difficult to add extra bike lanes to existing roads, without which the routes are still unsafe. It is unfortunate that the city administration has failed to carry out a policy promise of a former Bangkok governor that all new roads should have bike lanes.
The city administrators must ealize that infrastructure means more than a one-metre-and-a-half strip painted in green. It also means ambience – lines of trees along the lanes, and traffic signs, as well as road adjustments to make cycling safe. At the same time, the administrators must not think just about cyclists, but must also accommodate local residents. In trading areas, it means vast parking spaces for motorists, so there is no need for them to occupy bike lanes, while community businesses still have a chance to thrive. A comprehensive plan must help to avoid conflict with local communities. If this happens, cycling will be welcome to all.
It would be wrong to allow today's event to pass as a stand-alone one. There is still a lot to be done. But the event should be a good start for the country to think more seriously about this carbon-free mode of transport.
————————————————————
Reported by Gawin Chutima
Committee Member, Thailand Cycling Club
Comments
comments